Try the following steps to find your Wyze devices with Amazon Alexa:
Ensure that the Amazon Alexa device is compatible with the camera. It must be an: Echo Show, Echo Spot, Fire Tablets and Fire TV. It's compatible with all generations of Fire TV, all Fire TV Edition Smart TVs and Fire Tablets Gen 7 and above.
Make sure you have the latest firmware version.

To do this, go to

Account > Firmware Upgrade. Here you will be able to see if you have the newest version. You also have the option to Upgrade All if a new firmware version is available.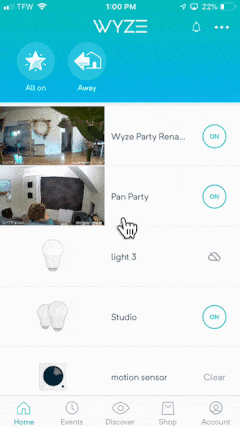 Check that you are using the correct Wyze account that is connected to the Amazon Alexa account.
Try Unlink and re-link the Wyze skill

Open up the Wyze app, go into your Account settings and then tap on Works With. From here, select Alexa and follow the instructions to Link Alexa. You can also unlink Alexa from here.
If you've linked your Wyze account through the Alexa app, you can open the Alexa app (or go to alexa.amazon.com) and select Smart Home. In the Devices tab, tap your camera then use the options to delete or disable the camera. This will unlink it from the account.

Once unlinked, try enabling it again with Works with.
Make sure that the camera is connected to WiFi by checking if you can load a Live Stream of the camera in your Wyze app. Do this by opening the Wyze app and selecting the camera you are interested in checking. If you cannot view the Live Stream of the camera, reference Connectivity troubleshooting.
Note: You must have a Wyze Cam v2 or Wyze Cam Pan to connect with Amazon Alexa. Due to hardware limitations, the original Wyze Cam is not compatible with Amazon Alexa.