Considering adding a microSD card to your Wyze Cam, or signing up for Cam Plus instead? How about doing both? This article explains what you get with both options.
Wyze Cam + a MicroSD Card
Using a microSD card with your Wyze Cam gives you the ability to record videos continuously, locally, and create Time Lapse videos. For basic, everyday use, a microSD card is the next level for your Wyze Cam.
Pick up a microSD card in our Wyze Shop.
Wyze Cam + Cam Plus
A subscription to Cam Plus gets you many more features. If your Wyze Cam has a Cam Plus license, you'll get motion-triggered (and unlimited-length) Event recordings, cloud storage, and smart AI features like Person, Package and Pet Detection. See the next section for the full list of what'll really bring your cam to the next-next level.
Subscribe to Cam Plus here.
Wyze Cam + Cam Plus + a MicroSD Card
What if you have Cam Plus and a microSD card? That means you get all the features.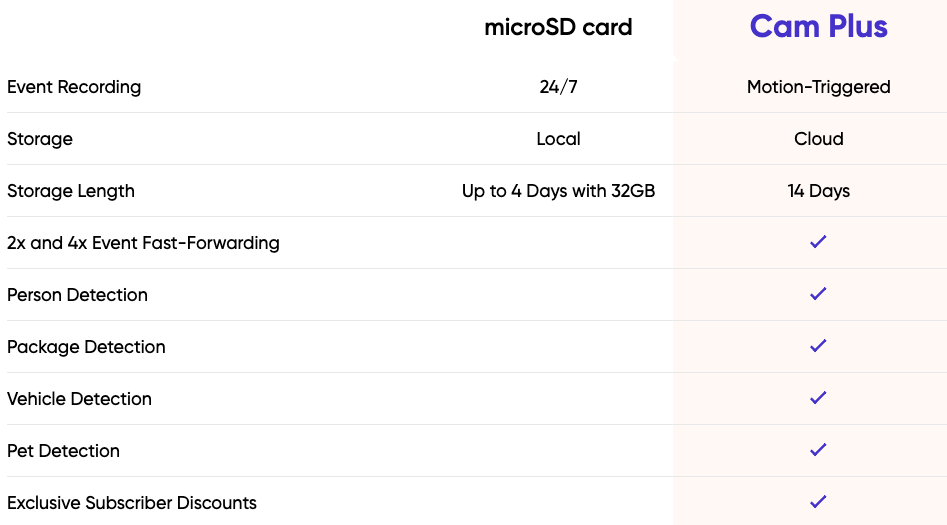 While a microSD card allows you to record continuously and locally, Cam Plus allows you to only record the events that matter - like when a person or pet is detected. While the microSD card is storing your recordings locally, Cam Plus comes with handy 14-day cloud storage that can be your backup if your cam is ever stolen. And as a bonus, Cam Plus gets you exclusive discounts at wyze.com.
Do I need both a microSD card and Cam Plus?
You might! It depends on how many Wyze Cams you have, the type of cameras you have, and what you're keeping an eye on. If you're picking up a Wyze Cam to record Time Lapse videos of the sky, you're alright with just a microSD card. But if you're keeping an eye out for packages, want to get notifications when a person is detected, or are monitoring your home or property, Cam Plus is the way to go.
And if you're monitoring an area where you want a little extra security, like the garage or front yard, we recommend assigning Cam Plus to your camera. That way you get continuous recording, as well as notifications about the things that matter most to you.