Setting up your dual-band Wyze Mesh Router is easy, needing only a couple quick connections to your network and a few taps in the app. Getting connected has never been easier!
Before you begin, you'll need: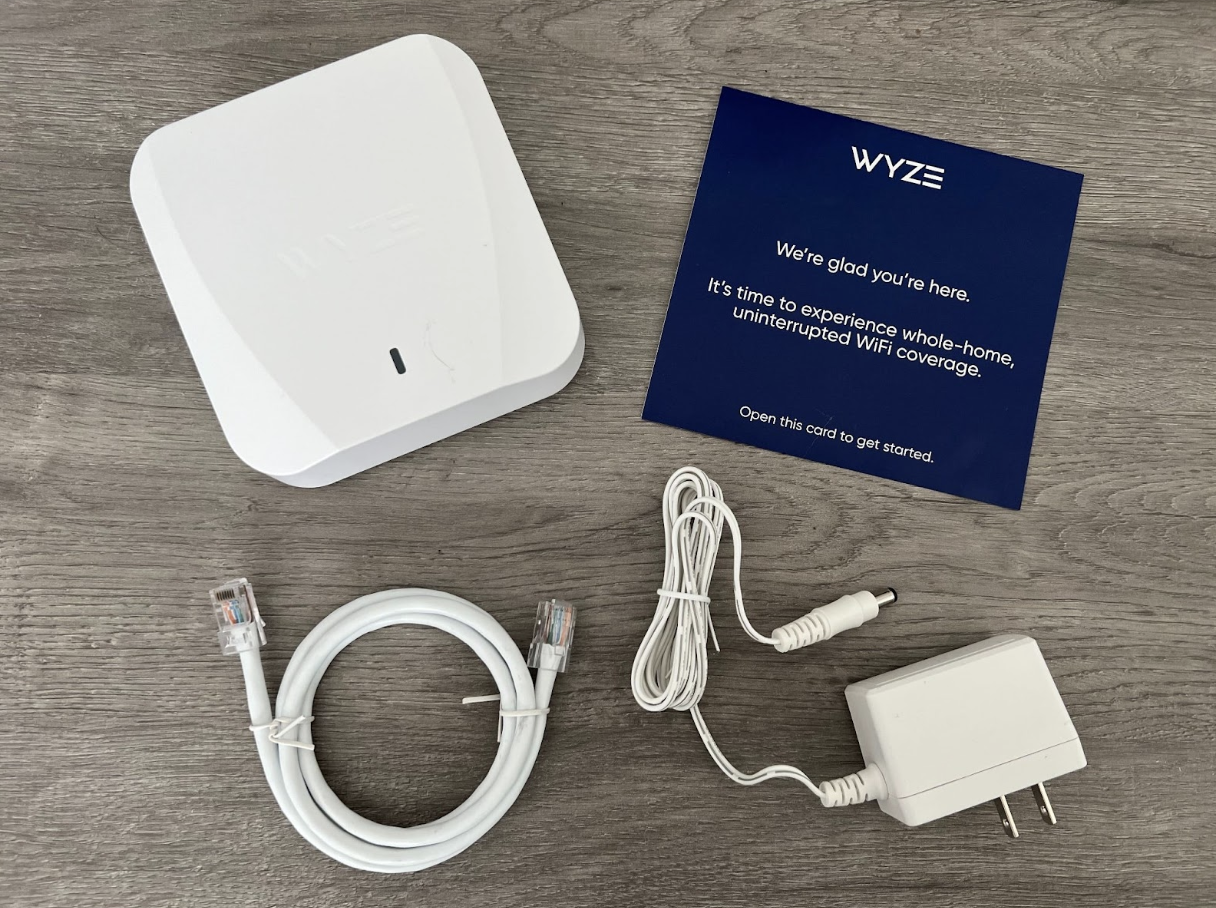 Wyze Mesh Router (just one of them!)
Power cord
Ethernet cable
Your existing modem or modem/router.
A smartphone with an active mobile data connection.
An open, centralized location for your root mesh router to live. 🏠
In the Wyze app, tap Home then the plus sign + on the top left.
Tap Add Device.
Tap Home > Wyze Mesh Router.
Confirm that you have the items needed to begin, then tap Start.
Unplug your existing modem and router from power and from your network.
Follow along in the Wyze app to set up your root mesh router.

If you already have a root mesh router set up, you'll be prompted to either Create a new network or Add a router to your existing network.
When prompted to wait ~3 minutes for the LED to blink, it can take the full 3 minutes. Have a 3-minute dance party while you wait.

Allow Bluetooth access to search for and pair with your root mesh router.
Name your root Wyze Mesh Router and tap Finish.
On the next screen, select Single Network (unless you want a split network*).
Give your Wi-Fi network a name and password.

Be sure to use your previous network name and password! This will make sure you don't have to set up your Wyze devices again on the new network.

Optional! Tap Add Another Mesh Router to set up a satellite Wyze Mesh Router.

You can set up your satellite mesh routers at any time using the same steps in this article. It'll be a breeze.
Additional Notes:
Place your root mesh router and all satellite routers in an open area, away from large appliances, furniture, and electronics.
When adding satellite mesh routers to your network, you may be prompted to relocate your router if the connection is fair or poor. Move it closer to another router and try again.
Split Network: If you want a split network, both 2.4 GHz and 5 GHz with different names, choose Split Network after naming your network. You must provide different names for each network so you can tell which is 2.4 and which is 5.0. Make sure to name the 2.4 GHz band the same as your old network name and password so you don't have to set up your Wyze devices all over again.