Note: The following is an article on Events and Notifications with Wyze Sense. If you want to learn how Notifications work, then
click here to learn more.
Events with a Contact Sensor
An Event is triggered when the Contact Sensor's status changes to open. You can view registered events by tapping on the sensor's listing on the Home tab. This will take you to the chosen sensor's Device Screen.
Events are paired together. Instead of seeing Open > Closed for a Contact Sensor, you just see Open with an accompanying length of time. If the contact sensor is still open, you'll see it as Currently Open.
Events with a Motion Sensor
Events for a Motion Sensor are similar to the Contact Sensors. You'll see the associated event on the Device Screen.
When looking at Events you will see Motions Detected or Clear. If the Motion Sensor is currently tracking the motion, it will show it as in-progress,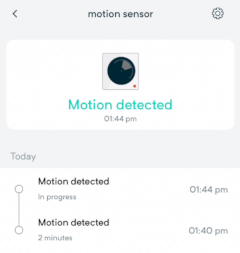 Notifications
You can set up the Wyze app to send Notifications when a Motion Sensor detected movement or the Contact Sensor has been registered as open. You can toggle Notifications on/off for each sensor, in addition to your account's Settings. To do this:
Open the Wyze app.
Tap the sensor's listing on your

Home tab

to access the

Device Screen.
Tap the Settings gear icon in the top right.
Tap

Notifications.
Select when you want to receive Push Notifications from your sensor.

For

Contact Sensors, you will receive a notification whenever it

Opens,

Closes, and

Is Left Open.
For

Motion Sensors, you can receive a notification whenever it

Detects Motion

or

Becomes Clear.

You can select any or all of the different notifications types to control the kind of notifications you receive from your sensor.