Wyze Cam v3 comes with a number of different mounting options depending on your preference or specific needs.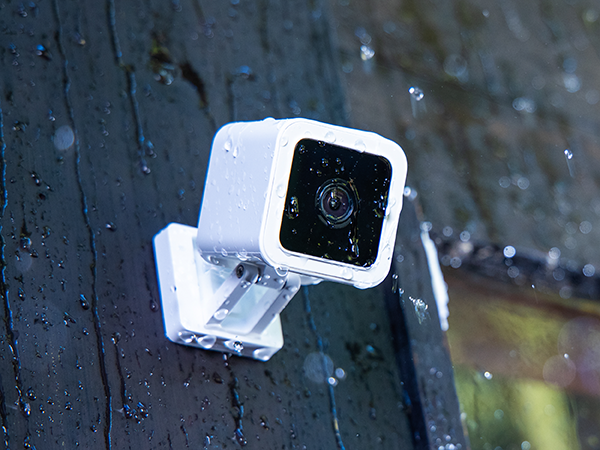 Magnetic Mounting
Wyze Cam v3 includes a magnet in its base that allows it to be mounted to steel or iron surfaces. To help create more opportunities for this we included a metal plate with an adhesive backing just like we did with the v2.
To use the included metal plate:
Remove the backing from one side of the included adhesive pad and stick it to the back of the metal plate.
Find where you'd like to have the cam mounted, and check the angle via the app to make sure it's where you want it.
Remove the remaining backing from the adhesive pad, and mount it where you want the cam.
Stick the base of the cam to the metal plate and adjust its viewing angle as needed.
Screw Mounting
If you want a more secure mount, using the included screw kit can help make sure Wyze Cam v2 has a solid connection with whatever surface you mount it to.
To use the included screw kit:
Position the cam on the wall, and check its stream via the app to ensure it's where you want it then mark the wall through the hole in the cam's base.
Drill a pilot hole, and if necessary insert the included drywall anchor.
Screw in the included screw, leaving a small (3 mm) gap between the head of the screw and the wall. 
Mount Wyze Cam v3 by passing the screw-head through the larger section of the hole in the base, then sliding the cam down to secure it to the screw.
If desired, you can snug the screw (don't make it too tight or you risk damaging the base) to create a more snug connection.
1/4"-20 Mounting
Like with Wyze Cam Pan and Wyze Cam Outdoor, Wyze Cam v3 has a `1/4"-20 threaded connection that you can use to mount the cam to any standard 1/4"-20 mount.
Out of the box, the 1/4"-20 threads are actually used to hold on the base of the cam, but the screw used to attach the base can be removed with a standard Philipps or flat head screwdriver.