Let your sprinkler choose when to water.
There are 3 types of schedules: Fixed, Offline, and Smart. Smart schedules work for you.
With Sprinkler Plus you have access to Smart Schedules which uses advanced weather data to determine when to water your plants.
Smart Schedules not only determine which days to water, but will also automatically calculate how much water each zone needs based on its unique zone parameters.
Or set specific times when this feature is on.
You can also select specific time windows in which Smart Schedule is able to run, including limiting the days of the week or even limiting the schedule to run within a specific date range. To create a Smart Schedule, tap on your Wyze Sprinkler in the app, then tap the Settings icon in the top right corner. Next, tap on Schedule. Under "ONLINE", tap Create Schedule, then Smart Schedule.
What types of trees and crops do you have?
In Zone Settings, you can now select which type of trees or garden crops are in a zone. Then, based on the plant growth stage the crops are in, Smart Schedules will use their respective crop coefficients and growth stage to suggest a schedule with optimal plant growth.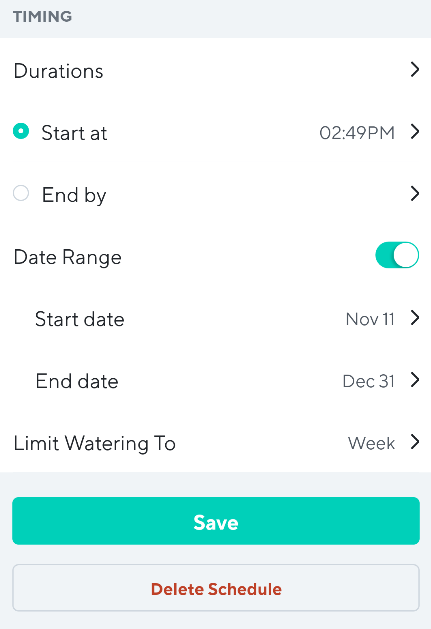 Additional Notes:
Smart Schedules will dynamically change the schedule based on its parameters. For example, if you do a quick run, the schedule will change since the soil moisture is now higher than expected.
Smart Schedules may still run if it's raining, like if the soil moisture of a zone is below 100%. You can enter the zone page and scroll to the bottom to Override Soil Moisture. Or, if you would like to be more conservative with water, you can create a Fixed Schedule with smart Weather Skips.
Check if Sprinkler Plus is activated. If you canceled or forgot to renew your subscription, a Smart Schedule will not run even if it shows up on your app.