Cam Plus Lite is a new, name-your-own-price service that lets you keep 12-second cloud video recordings on your Wyze Cam. It also will give your Wyze Cam access to Person Detection, which lets you choose to only be notified about video recordings that contain a person. This plan is funded by contributions from the Wyze community.
To sign up for Cam Plus Lite:
Go to Wyze Services in a web browser.

You may have a handy banner to sign up for Cam Plus Lite at the top. Click Learn More, or continue below.

Click the profile icon on the top right, then Sign in to sign into your account.
Once signed in, click Catalog, and scroll down to the Cam Plus Lite card.
Click Subscribe.
Select your monthly contribution. We'll have some suggested prices on the page that help us cover the costs associated with Person Detection and cloud videos.

If you're not interested in the suggested prices, you can click

Custom Amount

and enter any amount, including $0. You may get another prompt to verify that your amount is final - please read it carefully!

Click Next.
Check the box to agree to the Wyze Terms of Service, then click Pay Now or Subscribe for free.
You're all set! All you have to do now is assign Cam Plus Lite to your cameras.
If you already have Cam Plus, Cam Plus Pro, or Wyze Home Monitoring:
You will be automatically enrolled in Cam Plus Lite at $0. Just make sure you assign Cam Plus Lite to your cameras in the Wyze app under Account > Services > Cam Plus Lite.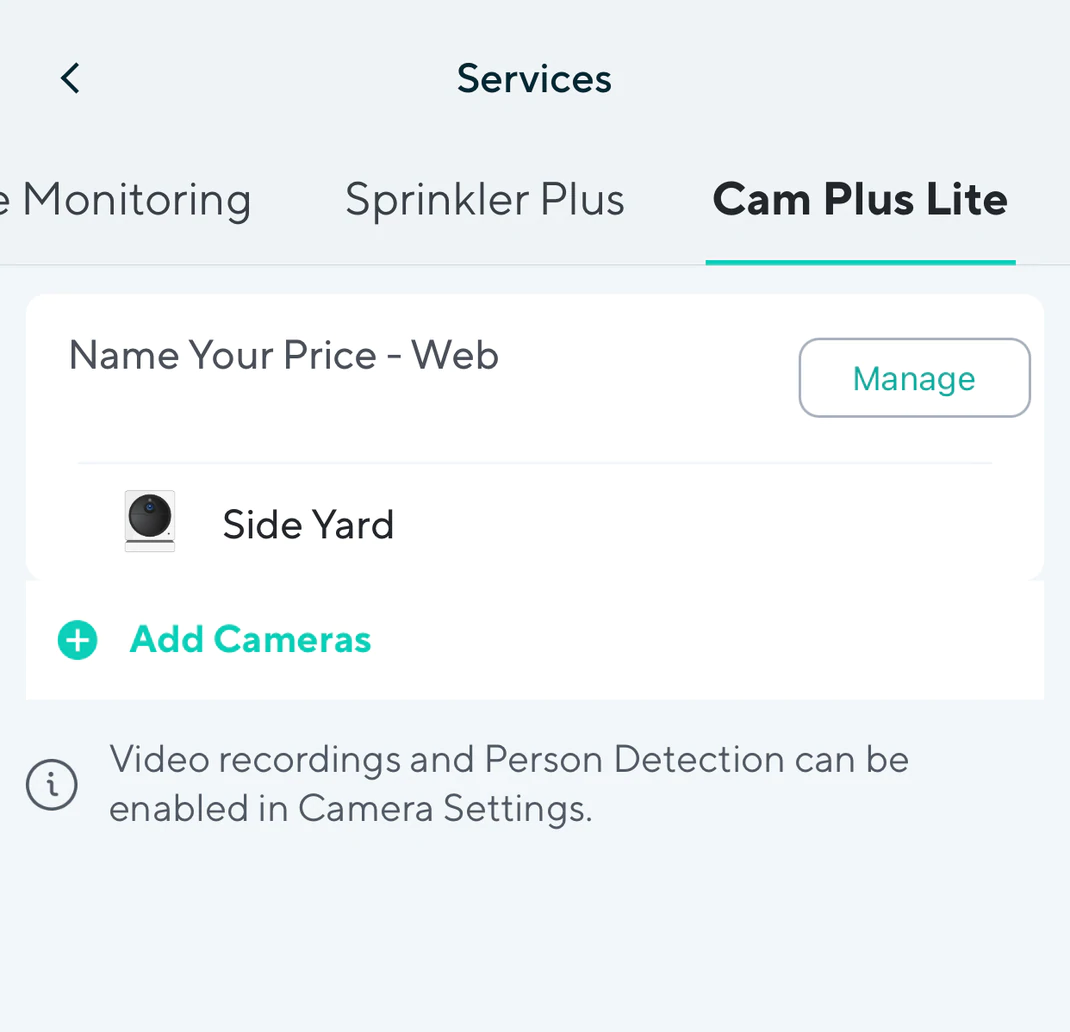 If you had Name Your Price Person Detection, your cameras were already upgraded! And for any cameras that weren't eligible for Person Detection, they are now. Just assign Cam Plus lite to them in the app under Account > Services > Cam Plus Lite.
Additional Notes:
* Yes, you really can opt to pay $0 for the service. But even a small contribution helps.
Compatible cameras:

Wyze Cam v1, v2 and v3, Wyze Cam Pan v1 and v2, and Wyze Cam Outdoor. It is not compatible with our video doorbells yet (working on it!).

If you're currently on a Cam Plus trial, follow the steps above to sign up for Cam Plus Lite.
Once you're signed up, you must assign Cam Plus Lite to your cameras.

To get Event video clips instead of thumbnails, in the app go to your camera's Settings > Event Recording > Recording Type > Video.