Note: You must have a Wyze Cam v2 or Wyze Cam Pan to connect with Google Assistant. Due to hardware limitations, the original Wyze Cam is not compatible with Google Assistant.
Try the following steps to find your Wyze devices with Google Assistant:
Ensure that the Google Assistant device is compatible with the camera. It should be a Google Nest Home Hub, or a Chromecast-enabled device capable of casting.
Make sure you have the latest firmware version.

To do this, go to

Account > Firmware Upgrade. Here you will be able to see if you have the newest version. You also have the option to Upgrade All if a new firmware version is available.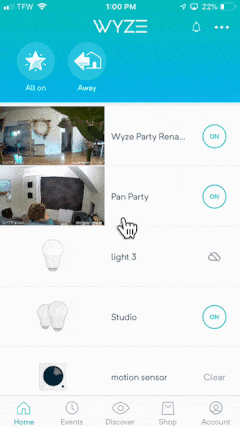 Check that you are using the correct Wyze account that is connected to the Google Assistant account.
Try to unlink and re-link the Wyze Home integration

Open up the Google Home app and select Wyze device > settings > "Unlink Wyze Home".

Make sure that the camera is connected to WiFi by checking if you can load a Live Stream of the camera in your Wyze app. Do this by opening the Wyze app and selecting the camera you are interested in checking. If you cannot view the Live Stream of the camera, reference Connectivity troubleshooting.