Problem
You're unable to pair the Wyze app with Wyze Thermostat. You continue to see the page below: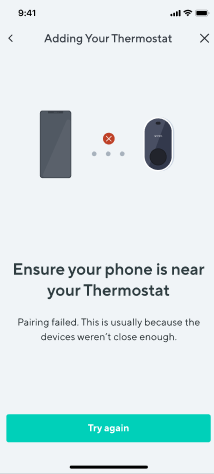 Troubleshooting Steps:
Reset your Wyze Thermostat: How do I factory reset my Wyze Thermostat?
In the Wyze app, set up your Wyze Thermostat again.

Follow the steps here: Wyze Thermostat Setup Guide
During setup, select Adding Your Thermostat from the Setup list.

Repeat steps 1 and 2 above (reset your thermostat, then set up again) until Bluetooth connects. If it still fails after 5 attempts, continue to the next step.
Try pairing with a different phone.

Your current phone model's Bluetooth may not be compatible, which is common with some Android models. bluetooth is only needed for setup, so if a different phone works, you'll be all set.
Once connected, you will still be able to control the Wyze Thermostat with your original phone.