Problem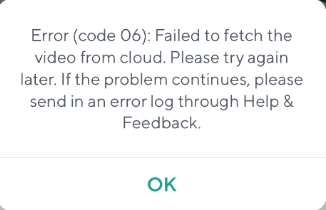 Troubleshooting Steps:
Log out of the Wyze app, then log back in.
Return to your Events, then try to load the video again.
If you continue to have the issue, please send us a log to help us investigate the issue.
To submit a log:
In the Wyze app, tap on your Wyze Video Doorbell.
Tap the Settings gear on the top right. 
Tap Wyze Support > Submit a Log > Event Video. 
Fill out the form.
Make sure you select Send log files so that it sends the logs with the request.
Tap the Submit button when you are ready to submit the report.
Please note that all logs go directly to our developers that are working on a fix. You will not receive a direct response from our agents after your log submission.