To view a Time Lapse video, you must first download the video to your phone or tablet. Because of the large file size, your phone or tablet must be on the same WiFi network as your camera so that the transfer can happen via WiFi.
Check Wyze Cam WiFi network:
Open the Wyze App from your smartphone or tablet.

From the

Home tab

select the image of the device to go to the

Live Stream.
Tap the Settings icon

on the top left to enter into the

Camera Settings.
Navigate down and select the

Device Info tab.
Under Network you will see the name of the WiFi network that the Wyze Cam is connected to.
Write down or remember the network name.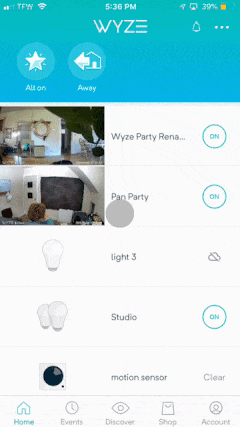 Check your phone or tablet's WiFi settings:
Now you will want to check what WiFi your smartphone or tablet is connected to.
Download Time Lapse
After putting your phone or tablet on the same WiFi network as your camera, navigate to the Album in the Wyze app and tap the arrow icon on the time lapse video to download to your account. You can then use the Share icon
to save the video on your phone's album or send the file somewhere else.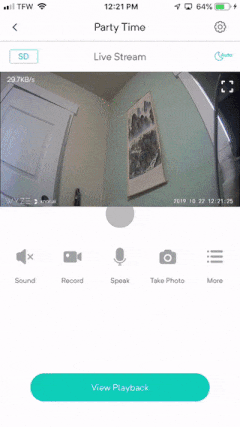 If you cannot tap to download or see the time lapse video in your album, make sure you have granted the Wyze app permission. You can change the permissions for your phone or tablet's photo gallery in your device's settings in order to grant permission to the Wyze app to download and view your Time Lapse.
Download the file with the microSD card:
You can also remove the microSD card from your camera and view or download the video on a computer.