Problem
While looking at the Home screen in the Wyze app, Wyze Sense Hub is offline OR you're unable to complete pairing during setup.
This icon is next to the device name: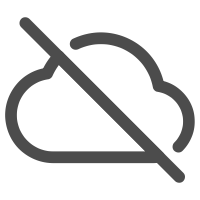 Troubleshooting
Check if your other devices are connected.

If you have other Wyze devices, look for the offline icon next to any of those. If you see multiple devices offline, there may be an issue with your ISP.

Connect Wyze Sense Hub to your router via ethernet.

While you can connect via WiFI, a hardwired connection is more stable.

Set up your Wyze Sense Hub again.

If you've confirmed that your Internet is stable and online, try to add the hub to your account again.

In the Wyze app, tap the + plus sign > Add Device.
Tap Sensors > Wyze Sense Hub.
Single-press the Reset button on the back of the hub.
Follow the in-app instructions to set up the hub.

You will not need to delete the hub in the app or re-add your sensors.

Confirm your wifi connection is 2.4 GHz (5 GHz connections are not supported).

Confirm the Wyze app is up to date.

Confirm the Wyze Sense Hub firmware is up to date.

FW version > 4.32.7.177 has an update for auto-reconnect for offline hub issues (should take around 30 seconds, no more than 5 mins).

Are you using a VPN?

If yes, then disconnect from the VPN via the app or home network.

Make sure the hub is connected to the router using the included Ethernet cable.

If your firmware is not up to date, please update the firmware again when it's connected via ethernet.

What is the color of the status light?
If there is no status light, it is likely the Wyze Sense Hub is not getting power.

Confirm your Wyze Sense Hub is plugged into a power outlet.

Plug the hub into a different power outlet.

Try using a different power cable.

If you still aren't receiving power, try to send us a log.

If there are flashing lights, your Wyze Sense Hub may still be trying to connect to the Wi-Fi network. Please make sure your Wi-Fi network is working properly.

If none of the above steps have worked, please submit a log so our engineers can review it.

On the top pop-up, click on "Report an issue"

After the "Get the latest log" page shows, wait for a few seconds.

"Get the latest log" should will change to "Log gathered!" and the Continue option should display.
Please note: Logs are sent directly to our engineers. Our support team is not able to access or view the status of these logs.