The Shop tab will allow you to purchase Wyze products directly through the in-app Wyze Shop and have all orders automatically connected to your Wyze account. Take the following steps to order products via the Shop.
Open the Wyze app and navigate to the Shop tab.

Tap on the product you'd like to purchase, adjust the quantity at the bottom of the page, and select Add to Cart. Tap the back arrow in the upper left-hand to select additional products.

Tap the Cart symbol in the upper right-hand corner of any Wyze Shop page when you are ready to complete your order.

On the Cart page, you can review your order before selecting PayPal or Credit or Debit Card.

The PayPal option will open a browser page to confirm your PayPal account information.

The Credit or Debit Card option pulls up a small tab at the bottom of the screen. Selecting Credit or Debit Card will prompt you to fill out your Card Details on the next screen.

After filling out your payment information, enter your Shipping and Billing address. If you select Save this address for future orders, the address you enter will auto-populate next time you purchase Wyze products through the in-app Wyze Shop.

Tap Review your order to proceed with checkout

Review that all entered information is correct and tap Place Your Order to finish checkout.
The Early Access products will always appear at the top of the products list. This allows for purchasing an upcoming product pre-release to get it first before the official launch and offers a chance to discuss or ask questions about new products!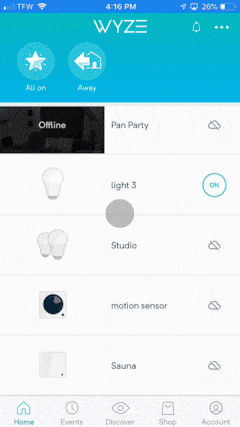 Order History
You can look up the history of past orders by navigating to the Account tab. Once there, tap on Order History to bring up your account's orders placed through both the Wyze website and the Wyze Shop.
Note: Only orders connected to your Wyze account will show up here. If you checkout as a guest on the website or used a third party seller, you will not see that order under Order History.