Problem
When accessing your Wyze Cam device(s) in the Wyze app, this message displays:
"Device is offline (error code 90). Please check your internet connection or power cycle the camera."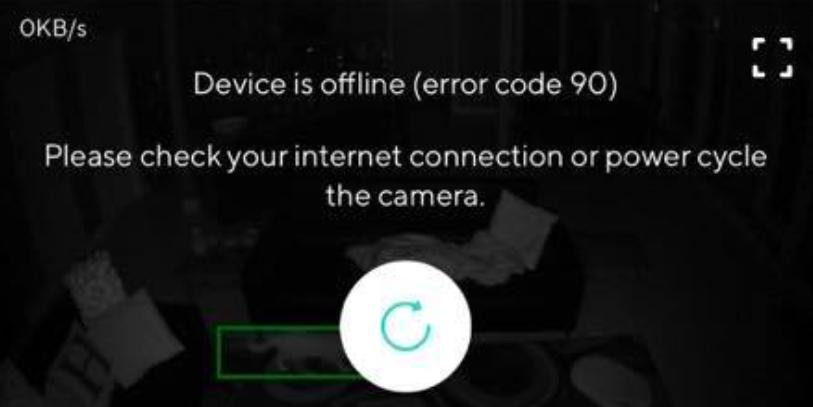 Error code 90 may appear...
On the live stream for any Wyze Cam device (Wyze Cam v1/v2/v3, Wyze Cam Pan v1/v2, Wyze Video Doorbell, Wyze Cam Outdoor).
When you've just finished setting up a Wyze Cam device in the Wyze app.
If you try to access your camera in the app after it's been set up.
After basic troubleshooting (restarting the device, rebooting your router). It appears to connect to the live stream, then the error appears shortly after.
Troubleshooting Tip:
A common fix for error code 90 is to factory reset the affected devices. Set them up again in the app. If the error code continues to display, proceed with the Advanced Troubleshooting below.
To factory reset your devices:
Wyze Cam and Wyze Cam Pan: Press the SETUP button on the bottom of the device for 10 seconds.
Wyze Video Doorbell and Pro: Single-press the Reset button on the back of the doorbell.
Wyze Cam Outdoor cannot be factory reset.
Advanced Troubleshooting:

Before proceeding, make sure that you have access to your modem, can log in to it, and can make updates to its WiFi settings. This error displays on WiFi frequencies other than 802.11 b/g/n with an encryption that is not on a WPA/WPA2 protocol.
Important: Wyze Support does not have the ability to access your modem/router settings and are unable to direct you through this process. If you need help, reach out to your ISP's support.
In the Wyze app, delete each Wyze Cam device affected. You will re-add them afterwards.

To do this, tap on the pencil on the Home page of the app.
Tap Edit Devices, then tap the red icon to the left of each device you want to delete.
Tap Done.

In your web browser, log in to your modem or router.

To find your login details, check the back or underside of the device, or reach out to your ISP (Xfinity, Cox, AT&T, etc.) for assistance.
Your ISP may have an app instead of a web portal to access your WiFi settings.

Follow the instructions in your modem or router's manual, or contact your ISP's customer support to update these two settings:

Security [Mode/Level/Other]: This must be "WPA/WPA2".

If you do not have that option, make sure it is on WPA2.

WiFi Mode: This must be "802.11 b/g/n".

Make sure 2.4 GHz band is enabled on your router.
Save your modem or router's settings and log out.
Reboot your modem (unplug it from power, then plug it back in).
Wait for it to fully connect and stabilize.
In the Wyze app, click the + plus sign > Add Device > Camera and set up each Wyze Cam again.
Additional Resources: